The next time you're unsuspecting enemy runs into your Trip Wire Bang Alarm it will shock and surprise them. At this point you can easily whip out your weaponry and start the battle over whatever you where feuding/stealing or protecting before.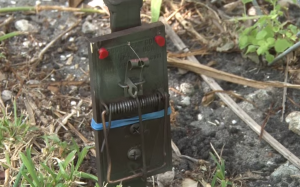 If you need a little more instruction or think that you missed a step check out this video below!
The below video will show you exactly how this works. It is a pretty quick video, but the instructions are pretty clear. You can skip the paint job, unless you are using this outdoors and need it hidden.
One Tip:
If you have pets, you may want to avoid this one. That would cause you and your pet a lot of stress.
However, this would be a decent practical joke to give someone a good scare!
Are you going to give it a try?