Once steps 1-5 are complete you can paint the entire trap to any color that you need.
The Sixth Step
Take your extra two tent pegs and secure them into the ground. Tie one end with the fishing line so that it is just a few centimeters off the ground and run the other end (to whatever length) and tie it off to the other tent peg.
* The tighter the line is the better. *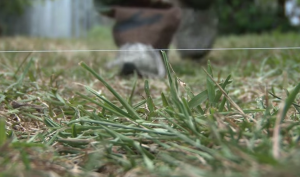 The Seventh Step
Now that your trap is in place bring back the springs and secure that with a Rubber Band.
* The two Ring Cap Individuals that you cut before can be placed on top of the nail heads. *
For The Last & Final Step To This Sadistic Little Trap Please Go To Page (6)…