Grab a pair of scissors or sharp wire cutter and start to cut those ring caps. This part is the most important because without the Ring Caps you are not going to hear a loud bang.
The beauty of The Trip Wire Bang Alarm is that there is multiple ring cap individuals for you to always load up.
The Fourth Step
Individually cut the rings from the Ring Caps into pieces. When finished you will have (8) or (6) (depending on the size) individual Ring Cap explosives.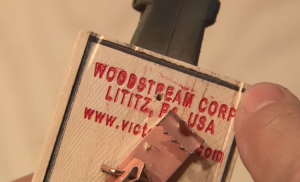 The Fifth Step
Take your Mouse Trap (the one where it has the screws and fishing line attached. Look at where the metal hits the wood and take two nails and secure them into the Mouse Trap.
Line the nails up as best as you can so when the nails hit the metal it makes a clicking sound.
* You will be putting your Ring Cap Individuals on top of the nails but wait to do this. *
Now that your trap is almost done it is time to do just a tad bit of cosmetic work if it needs it. This part is easy and when it is done we will show you how to load back the springier on this hot little alarm and scare the crap out of someone (or just teach them a lesson).
Please Go To Page (5) For The Final Set Of Directions…