Don't worry about The Trip Wire Bang Alarm hurting anyone… it just gives them a small but minor heart attack.
The instructions don't require measuring anything or cutting so this is pretty basic information.
The First Step
Grab your Mouse Trap and attach that to the first Tent Peg. Drill a hole directly into the Mouse Trap and the Tent Peg so there can be a hole to secure it together.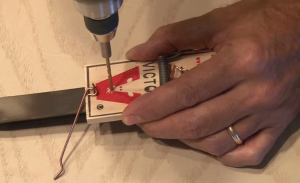 The Second Step
Once your holes are drilled take the screws and attach both of the items together.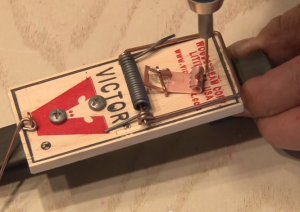 The Third Step
Drill another hole behind the bait pedal. The bait pedal is the top part where the mouse touches and causes the trap to unlock.
Once you drilled your hole under the bait pedal then string your fishing wire though the hole and tie it into a firm and secure knot.
Once your tent peg is secure and your fishing line is attached you are ready to start playing with fire baby!
Grab those Ring Caps and head over to Page (4) To Find Out How You Handle The Alarm Portion & Gun Powder…