You do not need to spend a lot of money on a fancy-smancy home alarm. This idea is perfect and will surprise the crap out of any one that it goes off on.
All you need is a few simple materials to get started. More than likely you already have most of this stuff laying around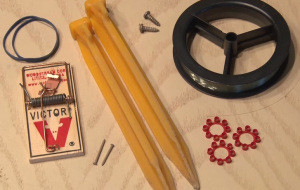 Fishing Line (I used Six Pound Clear).
Mouse Trap (Make sure that it is wood).
Ring Caps (As many as you want).
Tent Pegs (You will need 4 of them).
Nails (2 of them).
Screws (2 of them).
Rubber Band (You need just 1).
Time for the build of our Trip-Wire Bang Alarm.
Teach Those Thieves A Lesson & Let Them Get Caught Red-Handed.  (or at least scare the crap out of them)
These instructions are foolproof, I recommend testing it out on sibling's for a good laugh first
continue on..