These projects can all be done in minutes and take only a few other materials, all which you already have in your home.
Whether it's to save money or to just get creative and have a little fun with a few common household products, you may want to try one or more of these fun hacks for turning soda cans into clever creations for your home.
Make a herb garden
Soda cans are the perfect size for a small herbal garden. If you have a small space or not much outdoor area, soda cans will not take up much space and look great on a window sill. With just a bit of paint and a can-opener, you are ready for fresh herbs in your diet.
Use the can opener around the top of the soda can trim the top ridge. You will find that this makes a smooth rim and prevents a jagged and unsafe top.
Next spray paint the cans outside (on a newspaper) and let them dry thoroughly. Use a sharpie to write the labels, or add your label. You can paint them in more detail if you are artistic like that.
Now simply add the dirt and herbs and place them somewhere nice.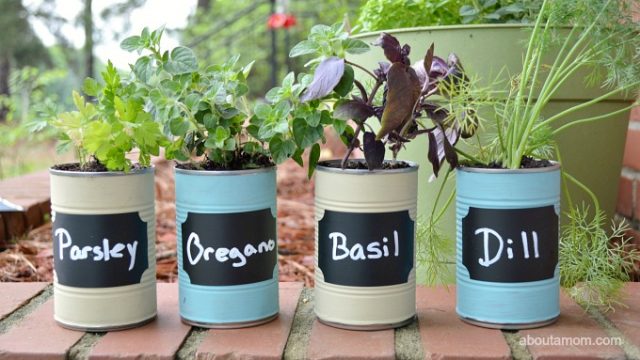 Make a silverware caddy
For a simple and perfect way to display your silverware, use soda cans to make a caddy. You are just attaching the cans so that they look like a six pack. You can make it look however you want. If you are throwing a classy dinner, paint them gold, silver, or a sleek black. If holding plastic ware at an outdoor BBQ, it would fit to keep them in their natural state. Or just paint them your favorite color!
I am getting all these ideas of what else I can hold in these, such as crafting and desktop items.
So how do you do it? Remove the top using the can opener. Paint the cans and arrange them in a six pack, gluing them together using hot glue. The far two cans on either side get holes punched (using a metal puncher) on the insides. With a piece of twine or thin rope, simply thread it through the holes to attach the cans together.  Done!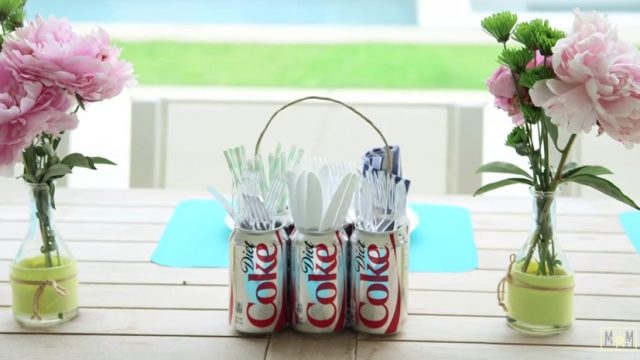 To See More Ideas On Up-Cycling Soda Cans Please Go To Page (3)…