[shareaholic app="share_buttons" id="10088959"]
WD-40 works better for removing dirty stains around your toilet… you'll be surprised that difference it makes… besides; it's cheaper to keep an all-purpose cleaner like WD-40 around!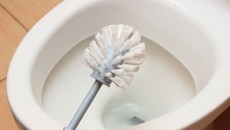 8. Clean toilet bowls
You don't need a bald genie or a specialized product to clean ugly gunk and lime stains from your toilet bowl. Use WD-40 instead: Spray it into the bowl for a couple of seconds and swish with a nylon toilet brush. The solvents in the WD-40 will help dissolve the gunk and lime.
Surprisingly this stuff is really good for weatherproofing your clothing. If you have a nice pair of shoes that you don't want to get ruined you should find out what a few sprays will do…
To Find Out How To Weatherproof Your Clothing With Wd-40 Please Head On Over To The Next Page Where We Show You How It Is Done…